Office Building That Will Set
A New Standard For Office
Accommodation In Ballsbridge
6,985 sq m (75,186 sq ft) Grade 'A' iconic office building on Shelbourne Road
Glazed high-performance curtain wall façade
South facing with floor to ceiling glass for great natural light
Dual entrance points with a full height light-filled atrium impresses any visitor
Flexible floor plates that can be easily subdivided
1,190 sq m (12,809 sq ft) of ground floor retail space available for offices for a combined area of 6,985 sq m (75,187 sq ft)
Capable of linking with Building 2 via a sky bridge for a combined office area of 10,756 sq m (115,777 sq ft)
Accommodation Schedule
Floor
sq m
sq ft
Ground Floor
253
2,721
1st Floor
1141
12,281
2nd Floor
1221
13,148
3rd Floor
1221
13,147
4th Floor
1221
13,148
5th Floor
963
10,371
6th Floor
963
10,371
Totals
6,985
75,187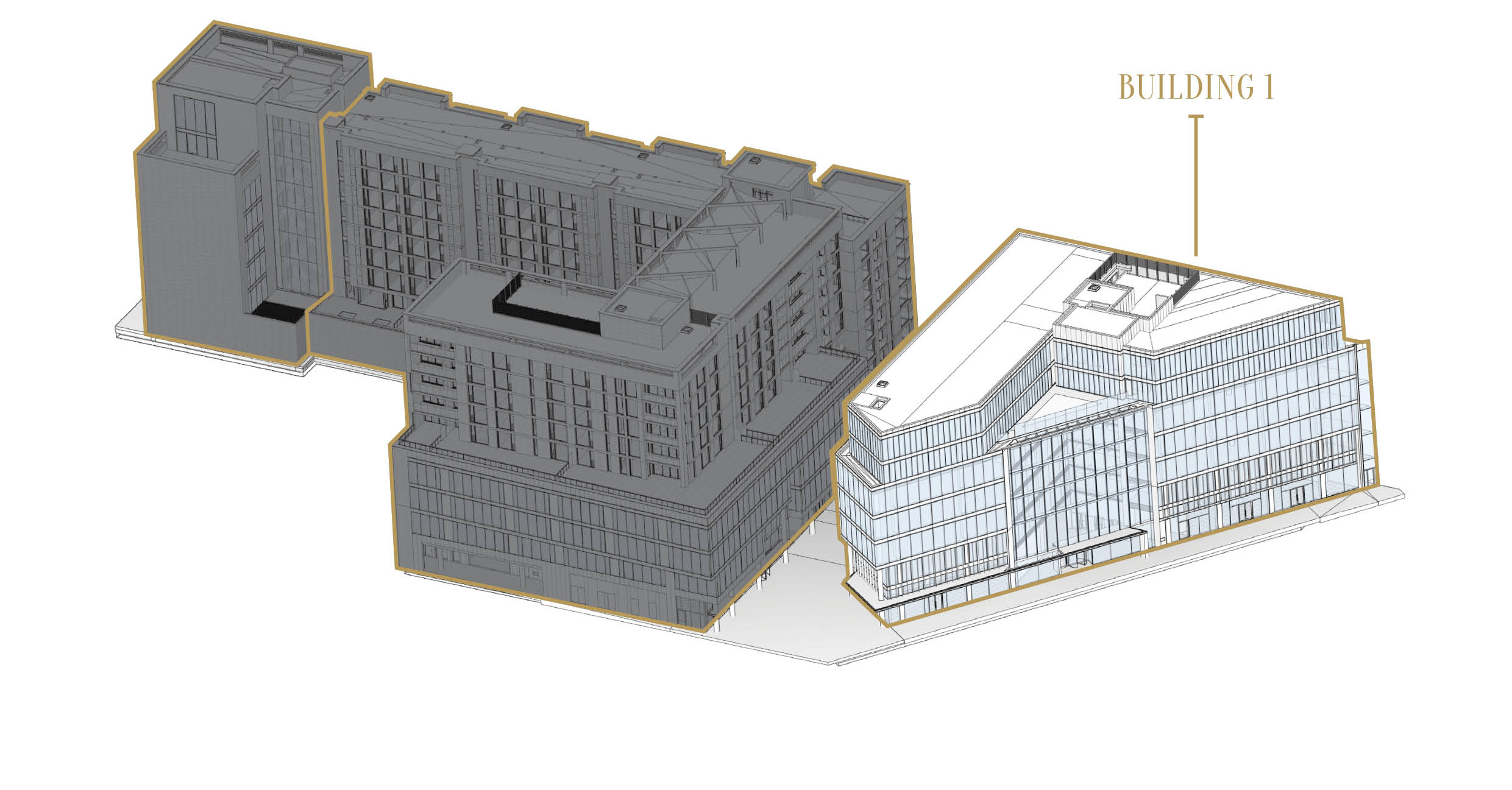 Four Floors Of The Highest Quality Offices At The Entrance To Number One Ballsbridge
This is an L-shaped 10 storey building with retail on the ground floor, residential on top and offices in between.
3,771 sq m (40,590 sq ft) Grade 'A' offices over four floors
Fronting Shelbourne Road
Distinctive building with high quality glazed curtain wall façade floods offices with natural light
Impressive entrance lobby
Flexible floor plates can be easily subdivided
Capable of linking with Building 1 via a sky bridge for a combined office area of 10,756 sq m (115,777 sq ft)
Accommodation Schedule
Floor
sq m
sq ft
Ground Floor
104
1,119
1st Floor
1,158
12,464
2nd Floor
1,251
13,466
3rd Floor
1,258
13,541
Totals
3,771
40,590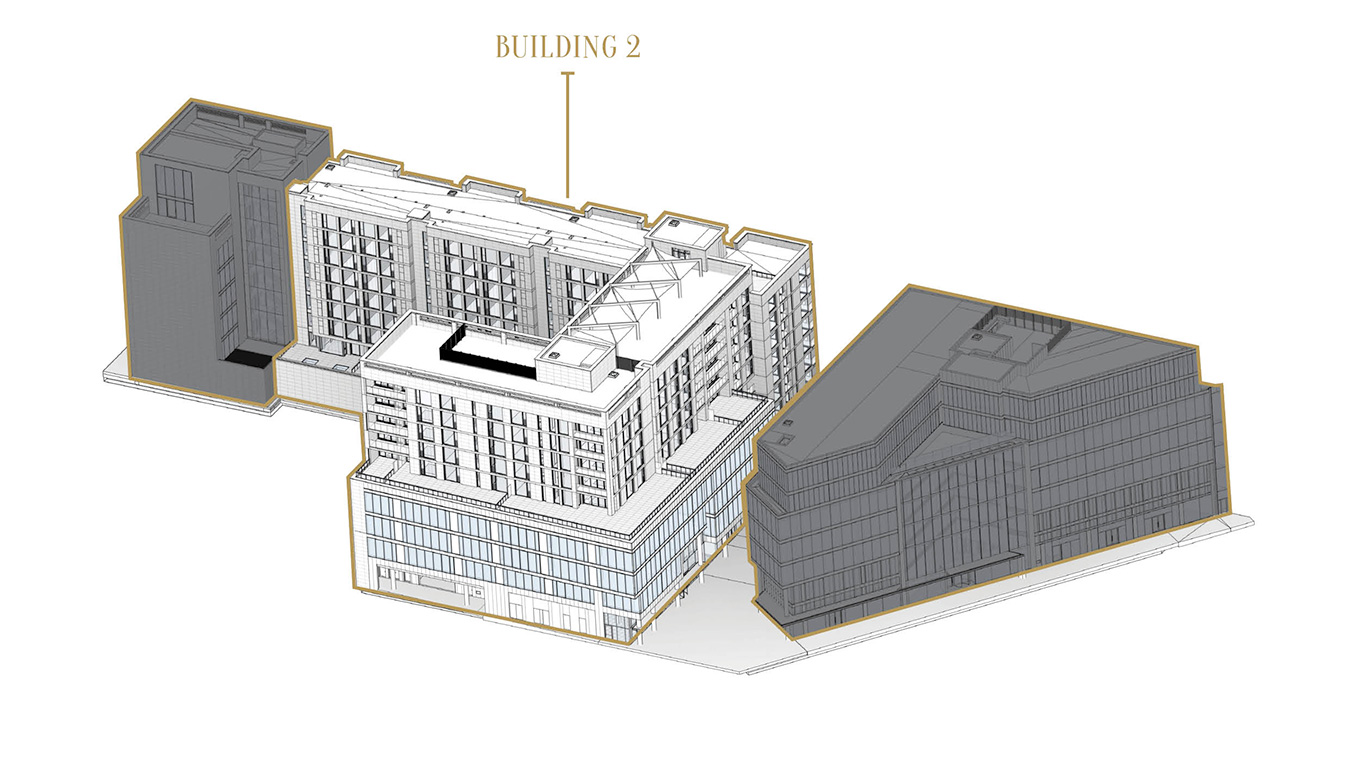 A Landmark Eight Storey Trophy Office Building On Pembroke Road
Accommodation Schedule
Floor
sq m
sq ft
Ground Floor
91
980
1st Floor
254
2,734
2nd Floor
278
2,992
3rd Floor
278
2,992
4th Floor
278
2,992
5th Floor
278
2,992
6th Floor
184
1,981
7th Floor
184
1,981
Totals
1,824
19,644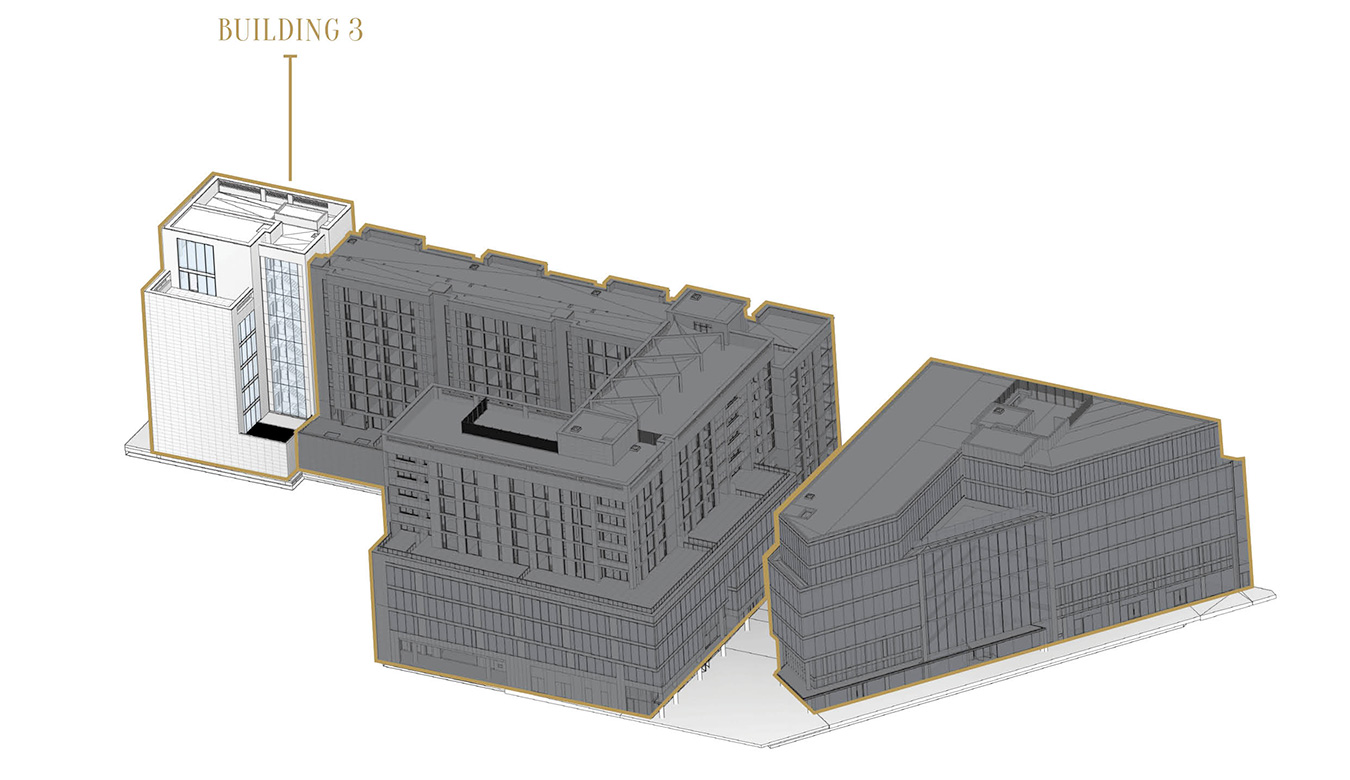 Design of Facades
The concept behind the design of the office façades is that they should be a formal and elegantly articulated statement. They have also been designed to provide a high level of environmental control within the office buildings, minimising solar gain and reducing imposed air handling energy requirements.
A solid insulated recessed band running parallel with each floor plate provides high-performance insulated band and increases the percentage of insulated area across the façade. This allows a simple provision of floor to ceiling glass on each floor plate, provided in high performance triple glazed unitised faced units.
The façade is completed with natural stone at the base and at edge details.
Floor Plate Section
The typical office level floor section has been designed within a dimension of 3.8m floor to floor. It is provided with the following build-up:
300mm RC slab
200mm raised floor zone (including floor)
2800mm clear ceiling height
500mm suspended ceiling zone (incl ceiling)
Reception
Floor and Skirting
Natural stone flooring with flush-satin stainless steel skirtings
Walls
Stone tile clad with feature walls in illuminated back-painted glass cladding panels
Matt emulsion paint finish to walls and ceilings
Ceiling
MF plasterboard with stepped details at edges with hidden edge illumination at façade edges
Aluminium demountable ceiling system to office floor plates
Feature ceiling panels in receptions in solid hardwood
Joinery
Feature reception desk
Flush solid-core veneered timber doors with recessed frames
Architraves, skirting and timberwork in satin painted waterproof MDF
Ironmongery
Brushed stainless steel by d-line
Furniture
Reception furniture including lounge seating, coffee tables, feature lighting
Passenger Lifts
Stone flooring to match reception
Stainless steel/mirror/veneered panelling to walls
Stainless steel ceiling with feature lighting
Restrooms
Floor and Skirting
Porcelain tile finish to walls and floors
Walls
Ceramic tile finish, full height to walls
Feature mirror over WHB's to one wall of WC
Ceiling
MF plasterboard with metal access panels and concealed feature lighting
Vanity counters
Stone (including splashbacks) with inset WHB's
Joinery
Veneered timber cubicles and doors system with veneered access duct wall behind WCs
Sanitary ware
Inset porcelain/stainless steel WHB's, back-towallhung WC's and concealed cisterns
Car Parking and Basement Storage
All floor surfaces painted with colour-coded vehicle grade floor paint, identifying and differentiating between circulation areas, pedestrian routes, parking zones, directional markings and signage
Self-finished walls and soffits
Galvanised powder-coated metal guarding to all wall bases, all openings and fittings, and all parking bays and ramps
Proprietary factory-finished metal doors
Illuminated directional signage
Mirrors to corners and dead ends to allow safe parking
Reflective inserts to elements of structure, walls and corners to allow safe parking
High-quality ambient and directional lighting
Support Areas
Safety vinyl flooring
Coved vinyl skirting
Painted plasterboard or blockwork to walls
Proprietary factory-finished metal doors
Plasterboard ceilings, metal access tile if required
Tenant Areas
Sealed power-floated concrete slab
Blockwork or concrete finish to non-glazed external walls – no linings/skirting
Recessed timber skirting and dry-lined plasterboard skimmed and painted finish to core walls
Flush solid-core veneered timber doors with recessed frames to exit points
Flush solid-core veneered timber or paint-grade doors with recessed frames to riser doors
Fully complete external cladding system to include mullions ready to receive partitions
Sealed underside of concrete slab or underside of metal deck
Technical Basis of Design Compliance
Design / Construction
British Standards (BS)
Euro Norm (EN)
American Society of Heating, Refrigerating and Air-Conditioning Engineers (ASHRAE)
BCO 2009
Utility/traffic/waste design
As defined by above standards and local authority requirements
Sustainability
LEED
Security:  'Security by design' philosophy
Health and safety:   Irish construction, employment and HSW at work regulations
Utility / Traffic / Waste Design
As defined by above standards & the Local Authority requirements
Sustainability
LEED Gold
Security
'Security by Design' philosophy
Health and Safety
Irish Construction, Employment and HSW at Work Regulations
GREEN CREDENTIALS
Number One Ballsbridge is to achieve LEED Gold Accreditation and has been designed as a sustainable development in line with the LEED assessment criteria:
Location and Transportation
To encourage development in locations shown to have multimodal transportation choices or otherwise reduced motor vehicle use, thereby reducing greenhouse gas emissions, air pollution, and other environmental and public health harms associated with motor vehicle use.
The development allows access to quality transit,Number One Ballsbridge is located in a well serviced and connected brownfield city centre site. Bicycle facilities are provided to all areas of the mixed-use development, with associated shower and changing facilities. In accordance with LEED definition, a reduced parking footprint to minimise the environmental harms associated with parking facilities, including automobile dependence, land consumption, and rainwater runoff has been integrated. Finally, green vehicles are designated 5% of all parking spaces used by the project as preferred parking for green vehicles. Installation of electrical vehicle supply equipment (EVSE) in 2% of all parking spaces is included in the project.
Sustainable Sites
The construction activities of the site are undertaken in accordance with the Sustainable Site Activity identified by LEED, including construction activity pollution prevention to reduce pollution from construction activities by controlling soil erosion, waterway sedimentation, and airborne dust; environmental site assessment, to protect the health of vulnerable populations by ensuring that the site is assessed for environmental contamination and that any environmental contamination has been remediated.
Site Development
The mixed-use development design and execution seeks to achieve the correct site development principles seek out in the LEED assessment criteria, including the objective to protect or restore habitats, conserving existing natural areas and restore damaged areas to provide habitat and promote biodiversity; open space to create exterior open space that encourages interaction with the environment, social interaction, passive recreation, and physical activities; rainwater management to reduce runoff volume and improve water quality by replicating the natural hydrology and water balance of the site, based on historical conditions and undeveloped ecosystems in the region; heat island reduction to minimise effects on microclimates and human and wildlife habitats by reducing heat islands; light pollution reduction, to increase night sky access, improve nighttime visibility, and reduce the consequences of development for wildlife and people.
Finally, a site master plan is to be put in place to ensure that the sustainable site benefits achieved by the project continue, regardless of future changes in programs or demographics, including tenant design and construction guidelines to educate tenants in implementing sustainable design and construction features in their tenant improvement build-outs.
Water Efficiency
A general LEED requirement to reduce outdoor water consumption is being integrated into the development, including indoor water use reduction, outdoor water use reduction and building – level water metering to support water management and identify opportunities for additional water savings by tracking water consumption.
Energy and Atmosphere
The development will include energy performance features including enhanced commissioning and verification to support the design, construction, and eventual operation of a project that meets the owner's project requirements for energy, water, indoor environmental quality, and durability; building-level energy metering to support energy management and identify opportunities for additional energy savings by tracking building-level energy use; enhanced refrigerant management to reduce stratospheric ozone depletion.
The development seeks to optimise energy performance to achieve increasing levels of energy performance beyond the prerequisite standard to reduce environmental and economic harms associated with excessive energy use & to support energy management and identify opportunities for additional energy savings by tracking building-level and systemlevel energy use. Demand response is integrated into the BMS to increase participation in demand response technologies and programs that make energy generation and distribution systems more efficient, increase grid reliability, and reduce greenhouse gas emissions.
Finally, renewable energy production to reduce the environmental and economic harms associated with fossil fuel energy by increasing self-supply of renewable energy is integrated in the development CHP plant.
Materials and Resources
The construction and specification of the development includes storage and collection of recyclables, to reduce the waste that is generated by building occupants and hauled to and disposed of in landfills; construction and demolition waste management planning, to reduce construction and demolition waste disposed of in landfills and incineration facilities by recovering, reusing, and recycling materials; building life-cycle impact reduction, to encourage adaptive reuse and optimise the environmental performance of products and materials.
The specification of the development seeks building product disclosure and optimisation, to encourage the use of products and materials for which life-cycle information is available and that have environmentally, economically, and socially preferable life-cycle impacts. To reward project teams for selecting products from manufacturers who have verified improved environmental life-cycle impacts.
Building Product Disclosure and Optimisation also looks to encourage the selection of products for which the chemical ingredients in the product are inventoried using an accepted methodology and for selecting products verified, to minimise the use and generation of harmful substances and to reward raw material manufacturers who produce products verified to have improved life-cycle impacts.
Indoor Environmental Quality
The LEED accreditation requires the Number One Ballsbridge development to adopt minimum indoor air quality performance, to contribute to the comfort and well-being of building occupants by establishing minimum standards for indoor air quality (IAQ), to prevent or minimise exposure of building occupants, indoor surfaces, and ventilation air distribution systems to environmental tobacco smoke and to promote occupants' comfort, well-being, and productivity by improving indoor air quality.
Low-emitting materials are specified, to reduce concentrations of chemical contaminants that can damage air quality, human health, productivity, and the environment. A construction indoor air quality management plan is in place to promote the wellbeing of construction workers and building occupants by minimising indoor air quality problems associated with construction and renovation.
Other areas of indoor environmental quality to be delivered in the development, in accordance with the LEED assessment criteria, include thermal comfort standards, to promote occupants' productivity, comfort, and well-being by providing quality thermal comfort; interior lighting standards, to promote occupants' productivity, comfort, and well-being by providing high-quality lighting; daylight standards, to connect building occupants with the outdoors, reinforce circadian rhythms, and reduce the use of electrical lighting by introducing daylight into the space and quality views, to give building occupants a connection to the natural outdoor environment by providing quality views.