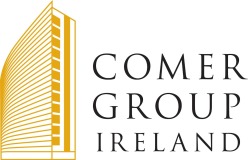 A new flagship development from award-winning developers, the Comer Group
Number One Ballsbridge is brought to you by the Comer Group, a private luxury property development company founded over 40 years ago by the Comer brothers from Galway.
Today the Comer Group is one of the United Kingdom's and Ireland's largest and most successful property companies with interests that extend into Europe and the United States.
Throughout its many projects in luxury residential homes, office parks, retail parks, hotels and leisure facilities there is a common theme of quality without compromise and that's something you'll see everywhere you look in Number One Ballsbridge.